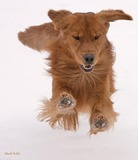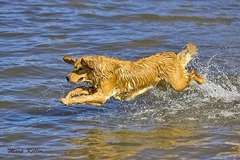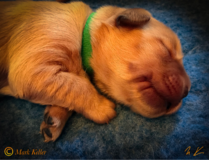 Mark and Susan Keller have been around dogs since they were children. Both acquired their first goldens over 25 years ago. Both were active and contributing members of the Golden Retriever Club of Illinois, and are members in good standing of The Golden Retriever Club of America for the last 25 years.
Mark has participated in hunt tests, obedience, agility, tracking, conformation, therapy dog, and specialized canine athletic classes for canine athletes. Mark taught obedience, agility and field training for over 10 years. He has titled in obedience ( includeds winning the "Dog World" award), agility, field, and conformation.
Susan has been an active teacher in obedience for over 10 years. She has trained in obedience, conformation, field and therapy dog venues. Susan is very active in the overall health of canines. From cancer prevention diets and proven remedies, to researching canine reproduction supplemental support, her goldens are trim, muscular athletes with beautiful worry free coats.
Thunder Mountain is driven to produce the highest quality golden retrievers, that fully meet the breed standard. This not only includes structurally, but also temperment, drive and athleticism. Thunder Mountain goldens can perform in most any canine sport.
Both Mark and Susan associate with some of the top golden people in the country. Constantly learning, exchanging ideas, experiences and efforts all in the name of producing these magnificent dogs. They work hard to educate and become educated in an effort to be "breed ambassadors" for golden retrievers everywhere.
Thunder Mountain Golden Retrievers has a very limited breeding program. They only plan litters when they feel the result of a breeding will improve the breed. While this limits the quantity of puppies produced, it guarantees the quality is high and takes precedent over all other results.
For more information, please use our contact page. We would love to hear from you!